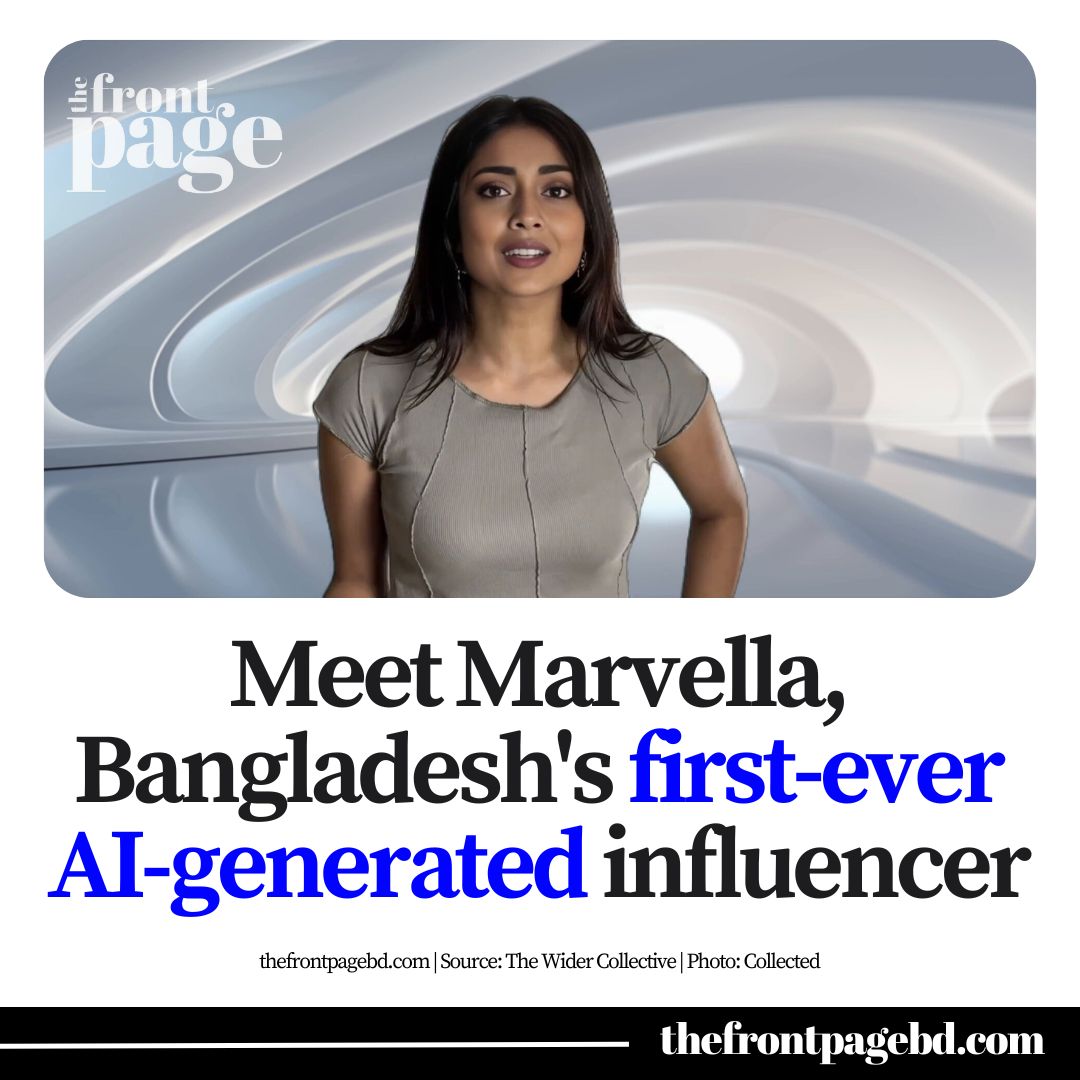 The Wider Collective, in partnership with The Marvel – Be You, has accomplished a monumental feat by introducing Bangladesh's first-ever AI-generated influencer, Marvella. This reveal occurred during the prestigious Influencer Awards 'Marvel of Tomorrow: Season 3,' hosted by The Marvel – Be You.
The AI-Influencer named Marvella is a 22-year-old graphic designer who embodies the Gen Z spirit. She has a deep passion for traveling and art. Marvella possesses the ability to curate content that resonates seamlessly with the diverse interests and preferences of the mass population.
Marvella was developed by The Wider Collective, a creative software agency specializing in experimental technology. They harnessed the power of artificial intelligence to create a digital persona that embodies the essence of contemporary influencer culture.
The event marks a significant turning point in the creative industry and technology landscape of Bangladesh, shining a spotlight on the potential of AI in the influencer marketing sector. Marvella's introduction was met with excited applause from the audience, signaling a new era in digital influencing.
Ehfaz Rezwan, and Mehraab Anwar, the founders of The Wider Collective, shared their excitement about the project.

Ehfaz said "We're very excited to be at the forefront of technological innovation in Bangladesh, with the unveiling of Marvella being just the tip of the iceberg. Here at The Wider Collective, our mission revolves around using the most cutting-edge technology to create products and services that push the limits of human imagination. We cannot wait to see how creative industries around the world make use of the innovations we bring forth."
Mehraab shared his thoughts "Artificial Intelligence is poised to spearhead a global transformation across all industries, catalyzing innovation, enhancing efficiency, and personalizing experience. We aim to propel Bangladesh to the forefront by advocating for the widespread adoption of these cutting-edge technologies, enabling the nation to compete on a global stage."
In addition to the founders Ehfaz Rezwan and Mehraab Anwar, a dedicated team of talented individuals at The Wider Collective worked tirelessly to bring Marvella to life. This collaborative effort included the expertise of Nirvana Islam, Ali Hasib, Akhlaq Siddiqi, and Pew Hossain, who played integral roles in the development of Bangladesh's first AI influencer. Their combined skills, creativity, and commitment were essential in achieving this groundbreaking innovation.
The Marvel – Be You, distinguished for its expertise in influencer management, played a pivotal role in bringing Marvella to life.
Marvella redefines the influencer role across branding, social engagement, and content creation. The global virtual influencer market is rapidly expanding, transcending time and location constraints. It spans various categories, from fashion and advertising to music and brand launches. Notable influencers include Lil Miquela, with 2.7 million Instagram followers and a #47 Billboard ranking. Figures like Shudu, the first virtual supermodel, and Imma, Japan's inaugural virtual model, have substantial impacts in this field.